The Acacia Pattern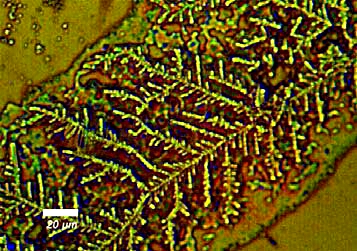 The acacia pattern resembles the pattern in hyaluronic acid (HA). To this end, HA acts as a memory molecule, which follows a divine metaphysical script. More specifically, this wood is in the Ark of The Covenant and maybe even the "Crown of Thorns." Moreover, the body of Christ is the dwelling place of the Holy Spirit. So, if HA is a pattern of acacia, one can also ask if HA, the living veil, is a model of the Hebrew temple veil.
Temple Construction and the Crown of  Thorns
First and foremost, the crown of thorns worn by Christ symbolizes the blood sacrifice. As stated before, the same wood appears in temple furnishings. In my opinion, the ability to form similar patterns is suggestive of a theologic connection. Hyaluronic acid (HA) proteoglycans in the extracellular matrix also show this pattern (1) (2) (3).
The portal to God is through the Blood of Yeshua (Jesus Christ). And, this portal is the point of which all things consist. So, our spirit can only enter this portal if and only if our soul resonates with the Spirit of God.  From the start, original sin condemns the man and his seed. Therefore, only sinless blood from the Lamb of God could pay that price. There are only Jews and gentiles who are either saved or unsaved. As Yeshua declared, "I am the way…..no man sees the Father except through me".  
The Power of Patterns
Biblical models appear throughout scripture. Also, they transfer divine authority and information between the natural and supernatural worlds.  Like the Hebrew temple, our body is also a temple with similar patterns. When conversion conditions apply, power transfer occurs, and we transform. To be sure, this conversion is supernatural and spiritual.
Acacia
"Acacia used in temple furnishings and biopolymers formed in water show divine patterning. These structures can transfer and translate stored  information through time." 
Visit my website @