…
T

he

V

iel, an

A

nchor for the

S

oul


Hebrews 6: 19
…
Symbolically, the veil was a barrier to holy places. It represented the body of Christ, which was torn for our transgressions. We are created in God's image so that through him we enter eternal life.

Dr. Raymond E. Turner, a Portsmouth, Virginia notable, scientist, educator, and executive dean (retired), is the author of Hyaluronic Acid Temple Veil. Turner is Sigma XI Emeritus (Harvard chapter). Furthermore, he has several earned degrees in chemistry, which include a M.S. degree from Fordham University, with both M.S. and Ph.D. degrees ("Best Chemistry Dissertation") from what is now the New York University School of Engineering.
Turner was a post-doctoral fellow at Harvard U. School of Public Health and Tufts U. School of Medicine. His final research appointment was at the Center for Materials Science and Engineering, MIT (1/06-12/08). Now in his retirement, Turner shares results from his ultimate research project. While a research affiliate at MIT, he discovers the hyaluronic acid (HA) temple veil within us. Hidden gospel messages found within the hyaluronic acid (HA) veil provides scientific proof that the Gospel of Jesus Christ (Yeshua) is true. He created the theobiology blog to show the world that we are the temple of God and the Spirit is within us (1 Corinthians 3:16). See Turner's testimony.
Career highlights
The Founder's career highlights include several appointments: Senior Research Technician at Cornell University Medical College, Research worker at Columbia University College of Medicine and Research Affiliate at MIT (1/2006-12/2008).
Also, Turner rose from an assistant professor of chemistry and math to a tenured full professor at Roxbury Community College (Boston). As the Executive Dean (retired) of Roxbury Community College, Turner returned to research at MIT to complete his life long passion.
In 2006, Turner became a city notable in the City of Portsmouth, Virginia based on his STEM projects (MIT publication). In 2006, the names of Dr. Turner and 11 other notables were inscribed on individual bricks at Fort Nelson Park, Va. His decade long STEM program, the MATRIX, became an integral part of UROP at MIT in 2006.
As a Mustang, Turner served with a combat infantry platoon in Vietnam and as a commissioned officer in the United States Army Reserve. Honorably discharged, he is a member of the DAV and the VFW.
Major Obsession or the inexpensive e-book version is the author's memoir.
Our Trans-Dimensional Veil
The flesh is our temporal veil. Fortunately, through the Blood of Christ, we can worship God within the veil. After death, "Believers" shed this trans-dimensional veil and the Spirit takes our souls (Believers) into the Eternal Light, who is Christ. As perhaps one of the most consequential scientific discovery ever made, this author identifies the image of our temple veil, which is hyaluronic acid (HA). As a pattern of the Hebrew temple veil (Exodus 26: 1-4), the Spirit in the wheels described by Ezekiel is in us. Without a doubt, this discovery confirms the Gospel. To reiterate, the temple veil described by Moses, "Ezekiel wheels" patterning (by Haxaire et al when compared to Ezekiel 1:7-12) and HA hydro-images give accurate accounts of the "message of the Cross". I am eternally grateful to God for giving me this soul-saving message in these last days. I pray that I will be able to reach as many as I can with the Gospel as long as there is breath in my body.
Dedication
Dedicated to the memory of Dr. Herman F. Mark for his personal letter of recommendation after I completed my doctoral degree at the now NYU School of Engineering.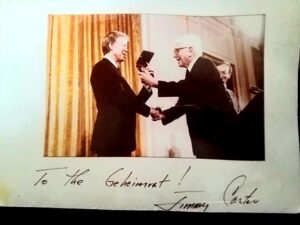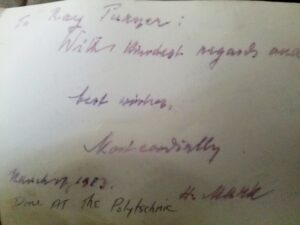 Picture of President Jimmy Carter presenting the National Medal of Science to the Late Dr. Herman Mark in 1983. Given to me that day at the now NYU School of Engineering, an historical landmark for Polymer Chemistry.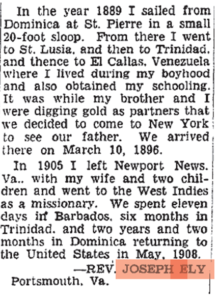 Also to my grandfather, Reverend Joseph Ely of Roseau, Dominica, who left home for El Callas, Venezuela in a 20-foot sloop in 1889. As my family's spiritual leader, he contributed to my realization that God's healing power is within the veil. After digging for gold with his brother, he arrived in New York City on March 10, 1896 to see his father. The rest is history.