Molecular Patterning of Ezekiel Wheels
USERS = 48173  VIEWS = 704,052
Dr. Raymond E. Turner earned his BS from Brooklyn College, MS from Fordham, and both MS and PhD degrees from the now New York University School of Engineering. At NYU he graduated with best chemistry dissertation in the engineering school and was inducted into Sigma XI by the chemistry faculty there. Very dear to him is a personal letter of recommendation from the late Dean Emeritus Herman F. Mark, the famed polymer chemist. Turner completed a post-doctoral fellowship at the Harvard School of Public Health. However, he realized his dream as a research affiliate at MIT (see one MIT). It was there he completed his pioneering research regarding the unique properties of HA as a biomatrix veil.
As the Executive Dean (Retired) of Roxbury Community College, Turner was once honored by the city of Boston (04/15/1992) and several later he was inducted into the Alpha Iota Mu Chapter of Phi Theta Kappa as an honorary member. In 2006, he was immortalized at Fort Nelson Park as a Portsmouth, Virginia notable along with such hometown greats as Missy Elliott, Ruth Brown, Perry Ellis, the late Bill Deal, the late Ada Barbour and several others. At that time, Turner was a research affiliate at the Center for Materials Science and Engineering, MIT.
Dr. Turner set out to show the world that we can live beyond our flesh body. The flesh molecule, hyaluronic acid (HA), a linear carbohydrate polymer, is a major player in biomatrix engineering and is found in all living creatures. Its biological activities based on its physical properties are well documented. Amazingly, HA shows patternings of Moses' temple veil and Ezekiel's wheel. Could our thoughts and intentions lead the Spirit (Transformer) to resonate within us as one? In this way trans-dimensional information exchange is possible.
Hyaluronic Acid: Ezekiel's Wheel (Ezekiel 1:4-21)
Figure 1. Top-down view of HA helix forms from molecular modeling data (Haxaire 2000) and Turner findings are highlighted (Ezekiel: 4-20). It is important to realize that John (Revelation 4: 7-8) speaks of the "Spirit in the wheels" returning to heaven, but now with six wings instead of four.
MIT research resulted in three major findings. Firstly, the report from Moses (Exodus 26: 31-34) concerning the veil patterning was confirmed. Also Ezekiel's description of the veil in (Ezekiel 4-20) was validated as seen in the images above. The late Dr. Masura Emoto called a pseudo-scientist by traditional scientists, was a pioneer in how pure water is shaped by thoughts, beliefs, and intentions. Turner observed and photographed HA fragments during dehydration and his work reinforces the importance of water and mind in shaping the nano-architecture of self-assembling HA.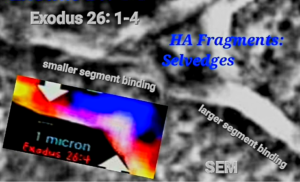 Figure 2. The description of the tabernacle veil found in Exodus 26: 1-4 was found for hyaluronic acid experimentally. Given that Ezekiel's description of the Spirit of the living creature in the wheels also described the veil led to the author to scrutinize the hyaluronic acid molecular modeling results reported in Haxaire's paper (Haxaire 2000).
Research Based On
A. HA Physical Properties.
•Turner, R.E. , Lin, P.Y., and Cowman, M.K. (1988)
•Turner, R.E. et Cowman, M.K. (1985)
•Turner, R.E., Dissertation: Hyaluronic Acid Physical Properties (1986)
B. HA Biomatrix Properties
•Turner, R.E., Banerjee, S.D., & Toole, B.P. (1991) 
•Toole, BP, Turner, RE , & Banerjee SD (1993)
•Toole, BP., Banerjee, SD., Turner, RE., Munaim, S., & Knudson, C. (1991),
C. HA Surface Properties Under Controlled Dehydration (1/2006-12/2008, MIT)